Removing sediment from the bottom of Slnečné lakes, Senec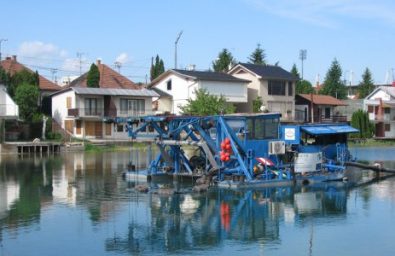 Carried out in: 2006 – 2008
Project duration: 300 working days
Sediment volume in situ: 80,000 m³
Pumped hydromixture: 450,000 m³
Processed sediment: 65,000 tons
Sediment: mainly organic, a lot of sand and water plants
Slnečné jazerá lakes were created in Senec, near Bratislava, after gravel and sand mining stopped around 1960. The 100 ha lake is currently used for recreational purposes. Sediment accumulation at the bottom of the water body caused lower water quality. As a result the potential for recreation decreased as well. That is why the town of Senec decided to have the lakes revitalised in 2005.
Our goal was to remove and dewater the bottom sediments without compromising the recreational potential of the water body. For this purpose, we assembled a prototype of the DESET PG01 technology line. A suction dredger "Rožmberk" carried out sediment dredging.
The uneven lake bottom and the amount of water plants in particular made the implementation of this technology challenging. Positioning the dewatering technology close to the shore was a great challenge because of the many buildings at the site. However, the compactness of the DESET line allowed us to process sediment on the area as small as 300 m2. The revitalisation project helped restore natural groundwater flow and consequently increase the appeal of this recreation area. The processed sediment was used to revitalise a town landfill.