Gabčíkovo water reservoir – Danube river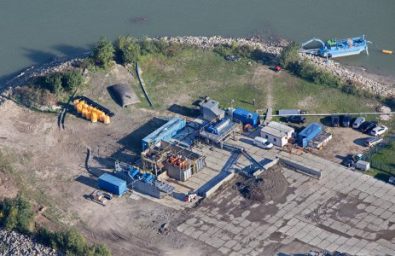 Carried out in: 2011 – 2013
Project duration: 520 working days
Sediment volume in situ: 240,000 m³
Pumped hydromixture: 2,350,000 m³
Processed sediment: 420,000 tons
Sediment: mainly inorganic with an admixture of sand
The Gabčíkovo water reservoir entered into service on river Danube close to Bratislava in 1992. It consists of several structures and is intended first to regulate and stabilise the watercourse of river Danube, to protect against floods, to produce electric energy, to increase drinking water quality and last to provide recreation.
With this project, we revitalised a part of the water reservoir, the Hrušov weir, which mainly serves to accumulate water for hydro power plant. River sediments that the Danube river transports to the Gabčíkovo water reservoir decrease the capacity of the whole Hrušov weir. Gradual bottom sedimentation process has a negative impact on the water level of the mainstream and adjacent water sources.
DESET PG02 technology line carried out the project and in the last year of the project, the new PG03 line. The latter enabled continual draining of the sediment while the reservoir was in full operation. For sediment dredging we used the DredgeKing PERM suction dredger that also transported it to the technology line for subsequent dewatering. Sediments were permanently deposited at a landfill after processing due to high heavy metal content.