15. December 2022
Posted by:

matej.beres

Categories: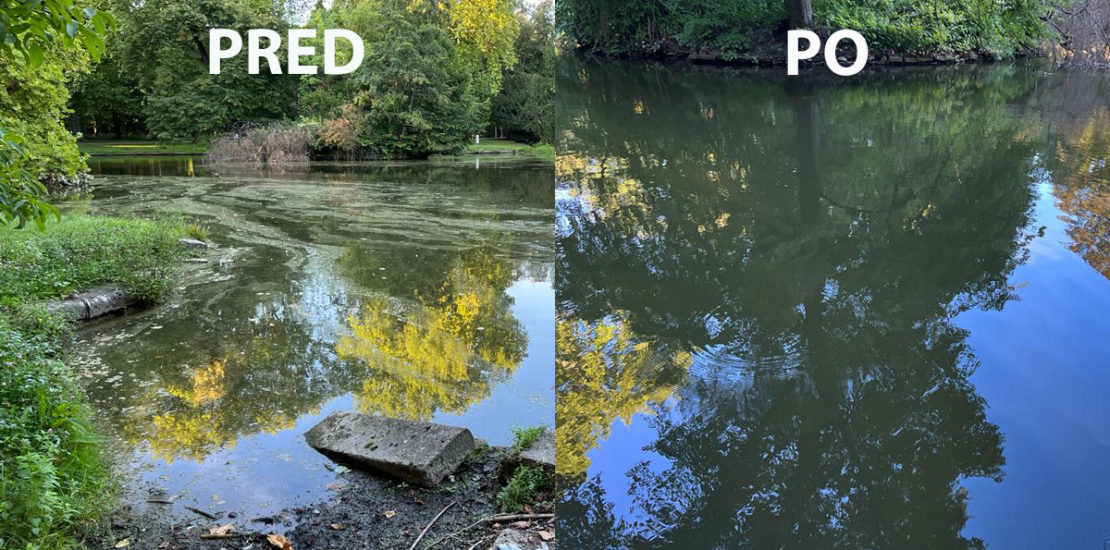 At the beginning of September, our company has been approached by a production company with a request to clean the water surface of the lake from cyanobacteria. The lake is located in the historic manor park of Pálffy manor house in Stupava, Slovakia.
 The cyanobacteria produced a so-called algae bloom on the surface of the lake in the summer. Algae bloom is formed as a result of the content of organic and inorganic substances in the water, especially phosphates. The occurrence of cyanobacteria in the lake is not only an aesthetic issue of the water surface. It also presents a health risk for people in direct contact with such water.
Since the production company needed to shoot the actress' fall into the lake for their project multiple times, in order to protect her health, we had to temporarily clean the surface of the lake for one day.  The shoot was supposed to take place two weeks after we were approached by the company. Therefore use of bacteria or enzyme based products was not possible due to shortness of the time. In case of clean-up by means of bacteria, the period necessary for the product to take effect would be at least 4-5 weeks. For this reason we recommended temporarily knocking the cyanobacteria down to the bottom by a coagulant with immediate effect that is usually used for drinking water treatment. 
Prior to the implementation, we took several water samples from the lake and  tested the effectiveness of the coagulant to determine the target dose.
The day prior to the shoot, our team applied the necessary dose of coagulant to the water within a few hours, using our own distribution system. After the application of the coagulant, the volume of water in the lake was mixed using an electric engine mounted on the boat. The final required outcome of water clarity presented itself within a short time. The next day the lake was ready for the actress to fall into without any hazard imposed upon her health.