Mladá Boleslav- Klenice river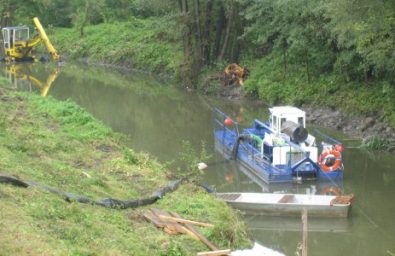 Carried out in: 2011
Project duration: 20 working days
Sediment volume in situ: 600 m³
Pumped hydromixture: 2400 m³
Sediment: contaminated with lead, clay mixture, driftwood fragments
Klenice river flows through the industrial zone of the town of Mladá Boleslav, Czechia, which houses a battery manufacturing factory. The river flooded the factory several times during the floods which caused sediment contamination by heavy metals in its vicinity.
This project focused on removing the contaminated sediment from the river. To carry out the project we used Technology line DESET PG02. Unlike previous projects, we were working in a narrow river arm in a built-up part of the town with limited access to the water body and limited surface and space to assemble the technology.
The technology included a suction dredger, vibrating screens and centrifuges. The suction dredger drained the contaminated sediment via pipeline to the DESET PG02 technology line.  By means of vibrating screens we separated mixture of voluminous waste (glass bottles, municipal waste, wood, gravel, sand, PET bottles and so on). The processed waste and the contaminated sediment was disposed of by permanent depositing at a hazardous waste landfill.