Malé Leváre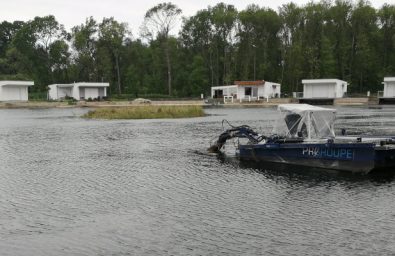 Implementation: 2019
Project duration: 1 working day
Mowed area: 0.8 ha
Vegetation type: Wolf's-bane

The developer built an area with an artificial pond of 0.8 hectares in the cadaster of Malé Leváre. He built 17 luxury cottages around the perimeter of the lake with direct access to the water. He planted ornamental species of fish and aquatic plants in the pond, which keep the water clean with their filtering ability. The result is a beautiful private recreation area with a private lake suitable for swimming.
However, the wolf's-bane, as the installed filter plants are called, has grown to dimensions that reduce the comfort of swimming. In some parts of the lake, the plants reached the surface and swimming in such an environment is not pleasant.
The developer continuously mows the plants at his own expense, but only to a depth of 1.5 m. Our task was to mow the algae in the entire area of the lake to a depth of 2.5 meters. The lake will thus be ready for the summer swimming season.
The DredgePrince LABOREC machine with two operators completed the task in less than a working day. The mowing attachment has an adjustable maximum mowing depth of up to 2.5 meters, so the assigned task was a piece of cake for us. The high performance of the hydraulic system and the robustness of the mowing head allowed us to finish the work in a record time of less than 6 hours of mowing.