Marina Cafe Hamuliakovo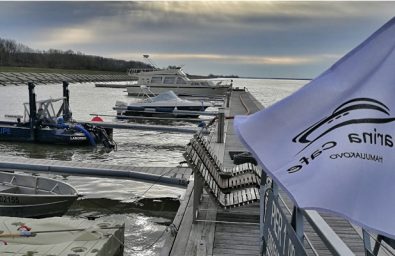 Implementation: 2019
Project duration: 7 working days
Volume of sediment in situ: approx. 440 m³
Pumped hydro mixture: 3,500 m³
Sediment: mainly inorganic with an admixture of sand

Marina Cafe is a small marina on the bank of the Danube located in the cadaster of Hamuliakovo near Bratislava. Marina Cafe offers its customers cafe services and at the same time space for mooring small vessels.
The owner of the marina noticed that small vessels have a problem with mooring in the pits when the level of the Danube is lower. The problem arose from the accumulation of river sediment in the mooring boxes. In March 2019, he therefore decided to solve this problem and approached our company.
We came to deal with the accumulated river mud with the help of a two-person team and the DredgePrince LABOREC suction dredger. It took our team 7 days to clean the harbor with an area of approximately 0.28 ha. We mined the river sediment to a depth of 2 m and transported it through a suction pipe and discharged it into the channel of the Danube River. Harbor cleaning work requires precision and accuracy. Since we are moving in limited spaces with a floating dredger and we were also limited by the steel ropes that fasten the structure of the piers to the shore and are under water.
Thanks to the cleaned harbor, the owner could look forward to a problem-free beginning of the summer season.