Podersdorf am See – cleaning of Lake Neusiedler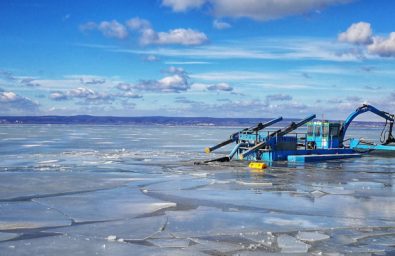 Carried out in: 2018/2019
Project duration: 6 months
Volume of sediment in situ: 22 000 m³
Pumped hydro mixture: 110 000 m³
Sediment: inorganic, clay mixture

The Neusiedler Lake is a slightly salty, shallow and drainless lake on the borders of Austria and Hungary. Neusiedler See, as the Austrians refer to the lake, is, along with Balaton, the only steppe lake in Europe. The lake is located in the Austrian state of Burgenland and in western Hungary. The Austrian part itself is at the same time the largest lake in Austria. It is characterized by a very shallow depth and a mild, windy climate. The lake is almost completely surrounded by a reed belt, which creates a unique region for the local fauna. Thanks to the prevailing northwesterly winds, less cane grows on the east bank than on the west. Near Donnerskirchen, the strip reaches a width of 8 km. The village of Podersdorf am See is located in the only place without reeds, 2 km long.
In the aforementioned Podersdorf am See, in addition to the city harbor, there is also a private yacht club marina. As the Neusiedler Lake is very shallow, even a small deposit of sediment causes problems for ships to maneuver. This exact situation occurred in the summer of 2018. The deposition of sediments, brought by a strong north-west wind together with an unusually low water level, caused navigation problems for boats in the yacht club as well as in the city port. It was therefore decided on the need for urgent cleaning of both ports. At the same time, it was decided to create a barrier made of wooden wheels, which will prevent the rapid contribution of sediment during windy weather.
Since the extraction of sediment from the harbor is difficult due to the limited handling space, we decided to use the small DredgePrince LABOREC suction dredger. However, in order to complete the work within the specified time frame, we added a larger TrexDuke IPEL suction excavator for mining the wide lanes. In addition to the mining of the sediment itself, which was complicated mainly by the presence of a lot of waste in the sediment, our work was complicated by an exceptionally strong winter. We also hauled out old stakes and loaded new ones at both ports. In the final phase of the project, we also deployed our last DredgeKing PERM excavator on the project. Thanks to the joint performance of our machines and operators, we successfully completed the project on time.
In total, 3 suction dredgers and 8 operators participated in the implementation of the project. During the 6 months of the project, we removed 22,000 m³ of sediment, hammered in 1,400 new wheels, pulled out dozens of old stakes and removed approximately 50 kilograms of coiled waste from the cutters.