Ravenna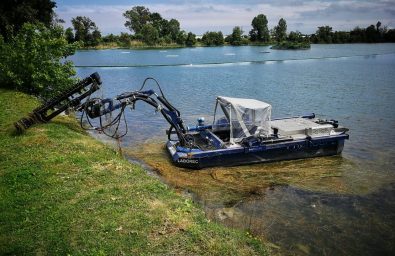 Implementation: 2019
Project duration: 3 working days
Mowed area: 1.5 ha
Vegetation type: Algae Alligata

ACQUE Sport Center is a multi-sport center in the town of Porto Fuori, a few kilometers from the Italian city of Ravenna. It offers its customers a variety of sports activities, from a golf course to a natural lake for water sports and fishing. In the spring of 2019, an important training session of the Italian rescue services took place at the natural lake. However, the operator noticed a large amount of aquatic vegetation in the lake a few weeks before the start. The algae Algae Alligata overgrown the pond to such an extent that it prevented boats from entering the water and there was a risk of catching the plants on the ship's screws.
Our task was to remove the algae and create a deep-water column for boat operations on the lake. A small DredgePrince LABOREC suction dredger worked for our team. Together with two operators, they managed it in three days, despite the not very favorable weather. We successfully mowed, collected and unloaded seaweed from an area of approximately 1.5 hectares. The mowing attachment of the Laborec excavator can mow to a depth of 2.5 meters. Since algae only grow in shallower waters where there is enough light, our small dredger was the perfect solution for the job. After mowing, we change the scythe to a rake. With these, we can effectively collect the floating remains of mowed plants and algae and place them on the shore. The plants placed in this way have already been processed by the operator of the center himself.
The combination of a powerful diesel engine with a boat propeller resistant to plant entanglement guarantees trouble-free and fast mowing of aquatic plants and maintenance of the water area. Our first project in Italy went as expected and the client enjoyed a clean lake and an undisturbed course of training for the rescue services.